80/10/10 Simply Delicious Culinary Skills Week
SEPTEMBER 20th - 28th 2019

Do you find yourself confused or bored with your dinner plan?

Did you lose your confidence in the kitchen when you switched your meal approach?

Do you flounder with food combining principles and how The 80/10/10 Diet works?
Stay at our house and you'll return home from the 80/10/10 Culinary Skills Week retreat fully prepared to create delicious and exciting meals that will keep YOU satisfied and that your friends and family will love! And you'll be able to plan and execute a celebration meal or dinner party with confidence. And, the best part, your guests won't even miss their cooked food!
Early Bird Pricing Valid till March 31st 2019 Rooms starting at $1208 and toping out at $3400 for a private room with a private bath. See Details HERE

*For full date & payment details, see "At-a-Glance 80/10/10 CSW," below.

If you want to eat healthier this workshop is for you. You'll learn how to create amazing, raw vegan food for yourself and your family & friends at the 80/10/10 Culinary Skills Retreat.
The CSW retreat will give you everything you need to restore your confidence in your kitchen!
80/10/10 fare is revolutionary for its simplicity and ease in the kitchen, but people often struggle unlearning their cooking habits and replacing them with healthy raw preparations for celebrations, holidays, and dinner guests. In order to maintain the 80/10/10 lifestyle it is helpful to know how to prepare the savory and complex dishes to help round out your meals. Our 80/10/10 Culinary Skills Week retreat is designed to show you that you do not need to sacrifice a social family meal on the low fat raw food diet.
Led by Dr. Douglas Graham, this workshop-like program distills years of experience in the kitchen, so you can take it home to yours. Develop your 80/10/10 culinary skills ... then invite your friends over to join you!
Would you like to:
Learn to whip up a salad dressing or soup from any ingredients?
Tantalize your friends and family with 80/10/10 raw vegan dishes they swear aren't raw?
Gain confidence in your 80/10/10 skills and be reborn in your approach to food?
Master a range of enticing dishes, from fast and simple to time consuming and complex?
Never again make food that tastes anything less than amazing with simple flavor layering techniques?


80/10/10 Culinary Skills Week could be the most important step you take in your 80/10/10 Diet journey. Without the ability to create wonderfully scrumptious and beautifully presented food, many people find themselves getting bored with their food and reverting back to old unhealthy habits.
Think about it – you probably spent the majority of your life learning how to prepare cooked food, and almost everything involved in that endeavor DOESN'T APPLY to creating Simply Delicious Raw Vegan cuisine.
Applying cooked-food methods to 80/10/10 raw food preparation almost never succeeds in creating something that tastes good enough that you want to eat it again and again.
80/10/10 Culinary Skills Week gives you the knowledge and experience to confidently create dishes and meals that will ensure you are satisfied – even thrilled – every time you sit down to eat.
If you have a family that you want to share your 80/10/10 lifestyle with, they will be far more willing to be a part of your journey when you prepare delicious foods that even the most skeptical spouse or child will be amazed by.
You will master a range of culinary dishes including soups, salads, smoothies, desserts, snacks, finger foods, and much, much more that will put smiles on their faces!
Most "raw food" recipes try to recreate cooked-food favorites or rely heavily on foods that aren't particularly good for you (even though they may be raw). As a long-term strategy, this almost never works. because it's fundamentally based on heating your food, rather than celebrating the beauty of fresh, vibrant living fruits and vegetables.
Whole, Fresh, Ripe, Raw, Organic Fruits and Veggies Is the New Standard
At 80/10/10 Culinary Skills Week, this is the foundation we base everything on, and we build your knowledge and skill from this healthy basic law: Whole, fresh, ripe, raw, organic fruits and veggies are the foods our bodies were designed to eat. They are our "species-specific" foods.
When you learn how to prepare simple or more complex meals with this principle as your foundation, everything changes and you harness the flavors, textures, and subtleties of raw foods like never before.
You begin to be able to create delicious, satisfying meals quickly and easily.
You learn to create dressings and sauces from whatever fresh ingredients you have available.
Learn the Secrets Behind the Great Meals of Successful Raw Vegans!
Gain the food mastery that will serve you for a lifetime by working side by side with, Chef Alicia Ojeda, raw culinary expert, with decades of experience.
Graduates of 80/10/10 Culinary Skills Week typically achieve much more than they expected. You will graduate with the ability to:
Show your family and friends how delicious and easy health can be.
Make food management, quantity control, and food combinations second nature.
Gain mastery of the entire suite of kitchen tools to save you time and to create incredible textures, combinations, and consistencies.
Master the use of a dehydrator to achieve a range of rich flavors and textures that will impress even non-vegan friends.
Adopt culinary terminology that will have you sounding like a professional chef in no time.
Appreciate the effects of different varieties of fruits and vegetables on taste and texture.
Master what to buy and how to make it last, so you never throw away food again!
Feel confident knowing you can always prepare healthy, tasty meals that please your guests, regardless of age, health status, or special dietary requests.
Enjoy playing creatively with food to prepare simple, vibrant, and delicious dishes.
Understand and appreciate the aesthetics of culinary ambiance.
Lead your community in the culinary art of fruit and vegetable preparation.
Overcome the challenges of preparing delicious meals through immersion in our supportive, family environment.
Build the network you need to support your success.

Ultimately, you can become an 80/10/10 Raw Vegan Culinary Wizard
Part 1
In the first two days you will learn:
How to prepare appealing appetizers, enticing entrees, delicious desserts, spectacular sauces, soups, and spreads ... and more!
The essence of food combining, to create combinations you will wonder how you lived without.
How to properly store and ripen food so you will never be without ripe fruit again!
The best applications for different tools, and which tools are our favorites.
The art of presence, plating, and presentation for those dinners where you want to perform.
How to design your dinners around a few ingredients, without sacrificing zest or flavor.
And much, much more.
Part 2
Over the next three days:
Where Part 1 paid primary attention to the fundamentals, Part 2 focuses on the details of putting together wonderful meals that will "wow" not only your but your family, friends, colleagues, and customers alike! We will cover everything from successfully ordering home-delivered food to meal planning and choreographing a successful raw party of any size.
There will be daily workshops where you will design, create, organize, and lead a meal from start to finish. We will discuss the nutritional considerations of serving 811 meals, as well as the social and emotional issues involved. After all, you want your family and dinner guests to be happy and satisfied with every meal.
Part 3
Final two days:
Part 1 was 2/3 in the classroom, and Part 2 was 50/50 theory and practical. The emphasis of Part 3 is practical, with only the first third of each day spent in lecture. Classroom time is primarily used for practical drills such as creating meals and the rationale for those meals for a wide variety of special needs, creating time/work sheets for organizing the food at large events, creating party menus, and shopping to ensure best quality at best prices. The kitchen time during Part 3 is focused on the finer details of food production and presentation. In addition to private tutorials from our own Foodnsport event chefs, Part 3 includes practical sessions on specialty knife skills, the use of molds and crafting tools, and the tricks of the trade that make meals extra beautiful and super nutritious, and our very own "chef's challenges."
Food & Nutrition
Complete 80/10/10 meals are included in your 80/10//10 Culinary Skills Week investment, so you experience total immersion in the 80/10/10 raw vegan diet and lifestyle. We serve only in-season organic produce, and several of the local farms in the area also provide us with a variety of seasonal organic fruits. Breakfast and lunch will display the season's finest fruits and greens. Dinner is always a surprise, as Culinary Skills Week's head chef fulfills his or her commitment to making each meal more amazing than the last.
Dr. Doug Graham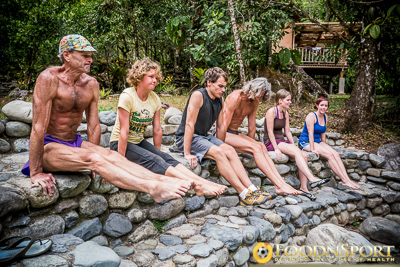 Founder of FoodnSport, creator of 80/10/10 Culinary Skills Week, and author of The 80/10/10 Diet, Dr. Graham brings to this event decades of experience creating his "Simply Delicious" culinary style, both for his family and for his thousands of students worldwide.
Dr. Graham is trained as a teacher and professional speaker, and he has been lecturing at health, fitness, and raw food events for more than 30 years. He is known for his work with world-class athletes, such as Martina Navratilova (tennis), Pam Boteler (sprint canoe), Ronnie Grandison (basketball), Doug Dickinson (track), Callie Withers (soccer), Bruce Hamilton (bowling), and for his seminal book, Nutrition and Athletic Performance.
Grant Campbell
Grant will be leading some of the classes on fitness science and nutrition. Also known as Raw Aussie Athlete, since moving on from his 15-year full time corporate job at IBM, Grant has been promoting better health through the 80/10/10 raw vegan diet lifestyle. Grant has been Vegan since 1999, 80/10/10 Raw Vegan since 2005 after listening to Dr. Graham's Perfect Health Program, and has been mentored by Dr. Graham since 2007.
He is an established ultramarathon runner whose video instruction and tips on running are included in our 80/10/10 Family Membership materials. As an extreme endurance athlete, Grant has participated in over 50 ultra running events from 50km to 140 miles consistently improving his results every year and plans to run a 100 mile race when he turns 100. Grant wants to help enable people to choose to be their best through education and support with FoodnSport as well as through his newsletter and retreats.
Janie Gardener
Janie will be sharing her ambiance knowledge, skills, and experience with you at times both in the classroom and the dining room. Her degree with distinction from the honors program in fine arts, past jewelry business as a craft vendor and instructor, lifetime of creative pursuits, common sense, and problem-solving skills are only a fraction of what she has to offer. She has over a decade of attending and/or working at our Washington State events as our Ambiance Fairy, and other areas of responsibility there as needed, also helping us as a consultant for FoodnSport from home in other capacities at other times of the year.
Also known as Jungle Janie, she first started eating a vegetarian diet in 1984, and transitioned into a vegan diet within a year. Janie has been practicing a natural hygienic lifestyle since the mid-1980's, and 80/10/10 since June 2002. Her story as of the first printing of The 80/10/10 Diet is in the appendix. Her website, whose redesign is due to be released in the Spring with additional content, has daily logs from the first six months of her 80/10/10 journey and occasional updates later on. Her new recipe book will be released in a few months, and recipe conversion system released soon afterward.
Erin Volentine
We are pleased to welcome back Erin's more than capable hands, creativity, and mind to the kitchen this year as head chef! Erin started her journey towards a raw vegan diet over 13 years ago and says, "This change in diet/lifestyle has completely changed every aspect of my life for the better! I have lost weight, cleared up my chronic cystic acne, improved my athletic ability and digestion, gained greater mental clarity and a deeper connection to the world around me - just to name a few things! Because I have seen such a change in my life, I am extremely passionate about helping others do the same - one small change at a time!"
As one of our 80/10/10 Certified Life Coaching students, Erin has combined that training along with her training in yoga and hosts retreats of her own, does raw food catering, coaching and more. She says she loves yoga almost as much as she loves good food. Come join us and enjoy Erin's good food with all of us.
Our Family
Nothing can replace the feeling of sitting down with 40 other people who all believe in living well. The raw food lifestyle is often labeled as isolating, but at 80/10/10 Culinary Skills Week, isolation is the last thing you feel. We generate friendships that last a lifetime, and we foster an environment where real community can be developed. Our staff and attendees will keep in touch with you throughout the year, helping you to achieve your goals, and strengthen your resolve. Here, you will never feel more at home away from home. And when you leave you will feel more connected than ever. So come to 80/10/10 Culinary Skills Week and join the family.
At-a-Glance CSW 2019
DATES: SEPTEMBER 20th - 28th 2019
- Check in: September 20th by 3 pm (doors open at 2 pm)
- Check out: September 28th by noon
PAYMENT DETAILS:
- 3-6 month payment plan option
- PayPal Credit also available
See Our Cancellation Policy
Frequently Asked Questions (FAQs)
How many people attend Culinary Skills Week?
CSW always sells out and is limited to a maximum of 30 people, including work exchange attendees. We ensure a high ratio of chefs/trainers to attendees so that your learning and hands-on experience are personalized and effective. We encourage you to place your deposit as early as possible to ensure you secure a spot in the program.
What are the accommodations like at the retreat center?
You have a few different options, including several private double rooms (some with bathrooms), and a small dormitory. We have a slide show and floor plan available here
Will I have my own room or will the rooms be shared?
All rooms except the Rose room are being booked as shared rooms. You have the option of booking both spots upstairs if available. Call us at 877-811-4569 or email us for more information about the rooms and rates. See room chart here.
Will I have access to a phone and the Internet?
Communication to the outside world from the retreat center will be available, but limited. We hope you will come to unplug and focus on making your 80/10/10 Culinary Skills Week dreams a reality!

While wireless Internet is available, speeds are low and connections may drop from time to time. Cell phone coverage is patchy, with Verizon offering the best signal. A land line phone is available on a limited basis.