80/10/10 Allstar: Pam Boteler : National Champion Canoeist, Motivational Speaker
Published: Fri, 12 Feb 2010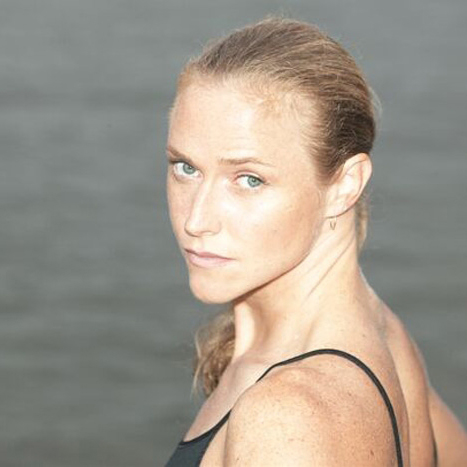 "For me, Natural Hygiene and Dr. Graham's low-fat raw vegan program have proven to be the keys to unlocking my true potential and transforming my whole self—in and out of the competitive arena. People are seeing the light, and the undeniable results of the many endurance, sprint, and strength athletes Dr. Graham is working with."
ATHLETE BIO: (highlights; visit Pam's website for more information.)
2000—first woman to compete (and win gold) against men at the USA Canoe/Kayak Sprint National Championships.
2001—won gold against men and was ranked 8th in the U.S. in men's canoe.
2002—successfully lobbied USA Canoe/Kayak to allow women to compete in the national championships in all canoe events, with equal status as the men.
2002—first woman to compete in and win a silver medal in the USA Canoe/Kayak National Marathon Team Trials, against men, paddling high kneel for 31 kilometers. Only known woman in the world to compete in an International Canoe Federation (ICF) sanctioned marathon event in an Olympic-style canoe.
Undefeated in the U.S. in the 1000-meter singles canoe event.
Undefeated in the U.S.A, from 2000 to 2008 in the 500- and 200-meter events.
Has won numerous international medals in 1000- and 500-meter singles events.
Holds the American record in the 1000- and 500-meter singles events.
Part of the record-holding C4 (four-person)crew for 1000 and 500 meters.
2009—broke the C2 200-meter American record (with her 18-year-old canoeing partner) at the 2009 Sprint World Championships in August.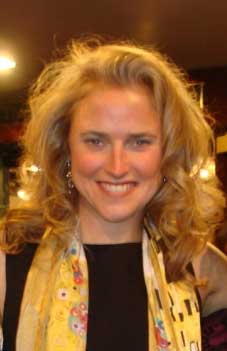 College:
1989—National champion Division III women's basketball.
Regional All-American and all-conference cross country.
Hall of fame (basketball and cross country).
Post college:
1992—Team USA and silver medal at the 1992 World Swanboat Championships (Thailand).
1994—Team USA World Dragon Boat Championships (Hong Kong).
2001—World Swanboat Championships gold medal, mixed crew (Thailand).
2001—World Swanboat Championships silver medal, men's crew (Thailand).
President, USA WomenCAN,a driving force in the global campaign for gender equity in Olympic canoeing.*
* Sprint/flatwater canoe (also known as "high-kneel) is currently an Olympic event for men, but not for women, and is the last summer Olympic sport to not have full gender equity. (Women's ski jumping is the last winter Olympic sport not to offer women's events.) Canoeing is the companion discipline to kayak (an Olympic event for men and women). Canoe/Kayak is one of the oldest Olympic sports, and one of the most difficult, as it is a classic test combining speed, power, endurance, and balance. To learn more, go to Pam's website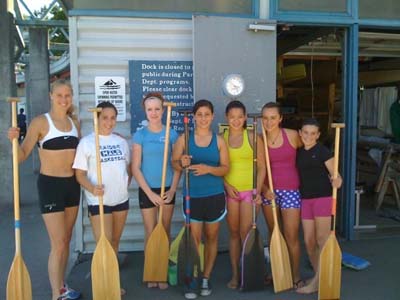 Tell us about yourself: your age, where you live, your job, your family, etc?
My name is Pam Boteler. I am 41 years old and live in Alexandria, VA. I work as a senior management analyst for the Department of Defense, a mile across the Potomac River from the Washington Canoe Club in Georgetown, DC (where I train). I am single with no children.
How did you meet Dr. Graham and how long have you been working with him?
I began collecting Dr. Graham's material about six years ago, but I never dreamed I'd have the opportunity to work with him. I actually set his work aside for a while, because it was dismissed by some people whose opinions I respected at the time (silly girl).
In 2007 we connected after he read an article Robert Cohen (author of Milk: The Deadly Poison) wrote about me in his daily "NotMilk" column online. Dr. Graham was on his distribution list, and he e-mailed me immediately, with a very complimentary message and an offer of assistance. I was stunned and actually asked Robert if he was serious. He eagerly urged me to contact him so I responded, and I guess, the rest is history. Dr. Graham became my nutrition/high performance/life coach, and we've been communicating almost daily ever since.
After exchanging emails for two months regarding my training, diet, and lifestyle, Dr. Graham finally asked me if I was ready for "811rv." I was beyond ready. He said, "We're going to take a trip to Banana Island."
I learned that Banana Island was not a place but a diet of—seven days of nothing but bananas. He taught me about buying several cases of bananas at a time and managing the ripening process. I ate bananas for seven days straight, about 30 per day (interrupted only on days 4-5 when I didn't have enough ripe bananas. He allowed me to eat grapes until the next batch ripened). I continued training during this time and had one of my best training weeks of that summer! While taking in about 3,000 calories per day, I actually lost seven pounds that week and felt fantastic physically (i.e., I had strong paddling and weight training sessions and had almost no IBS issues). Getting used to that volume of fruit was difficult, however. I couldn't eat that many bananas, but I could drink them, so I relied on smoothies—just bananas and water. I did miss the salt and condiment tastes I was so used to with cooked food, which made the experience quite emotionally and mentally challenging.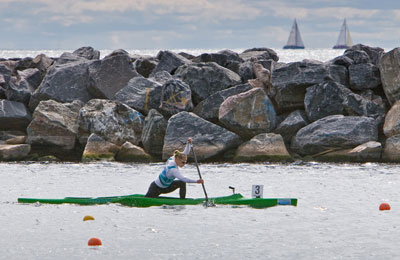 Still, I was so ready for change, and I am very proud that I did it. Some of Dr. Graham's intentions during this time were 1) to assist me in connecting with my sense of "true hunger," to distinguish my bona fide nutritional and physical needs from the emotional aspect of eating (one of my biggest hurdles); 2) to simplify my diet; and 3) to rid my body of stimulants, including supplements, salts, spices, oils, and even excessive variety (which overstimulates the appetite).
I've occasionally revisited Banana Island, or a mono diet, or eating just a few fruits per day, particularly when I'm under a lot of stress. Eating this way keeps me grounded and more able to work through physical, mental, and emotional challenges, and most important, to continue to "raise my game."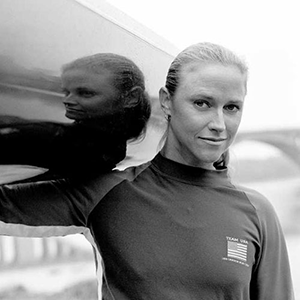 Do you eat 100% low-fat raw vegan?
No, I am not 100% low-fat raw vegan, 100% of the time. I tend to gravitate between 80 and 95% of calories as raw on average and am progressing well in the grand scheme of things. During times of intense training and competition, I am 100% raw or very close to it. The low-fat and vegan parts are not an issue—that transformation is sound and secure, thanks to Dr. Graham and Robert Cohen.
I have thrown out all the condiment popular in the raw movement—sea salts, oils, spices, vinegars, etc.—substances that keep us addicted and sick. During my frequent travels, I do my best to make intelligent choices, piecing together salads or raw side dishes at restaurants, or ordering simple steamed vegetables and requesting no or minimal salt, oil, and spices where possible. In particular I watch the salt content of prepared foods, which is a real issue. I eat very simply, mostly because I never acquired the type of food-preparation skills that I so admire in the 811 culinary specialists at Dr. Graham's Health and Fitness Week event.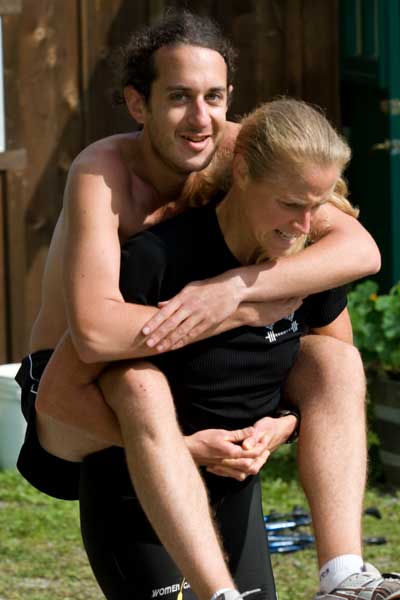 I take no supplements or superfoods, which I now view as crutches that raw food enthusiasts use in a (vain) attempt to compensate for their failure to simply choose whole, fresh, ripe, raw, preferably organic fruits and vegetables. Supplements are not substitutes for eating the right foods in the right quantities at the right time, particularly when we ignore the other lifestyle factors necessary for optimal health.
It bothered me for a long time not being "perfect" at 811rv: I was just "almost"(i.e., not enough). I struggled to fit in with those doing 811rv, but at the same time, I was feeling completely OUT of the crowd I left, even the straight vegan crowd. I was essentially ignoring my positive progress, which is the whole point of this journey. Also, I've spent a long time focused solely on the purity of my diet, neglecting many other aspects of daily life that are critical to my health and well-being (sufficient sleep, proper food combining, eating adequate but not excessive portions, maintaining emotional poise, nurturing my relationships, and the like). This year I intend to bring ALL those other cards onto the table and ensure that each one gets as much attention as possible.
This journey is about physical, mental, emotional, and spiritual transformation—personally and athletically—and frankly, defying the odds as an "older" athlete competing in a male-dominated/youth-oriented sporting world. It takes more than food to raise my game.
That's a really good lead-in to asking why you chose this path...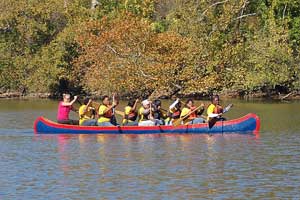 I initially chose this path for its health benefits, seeking to eliminate (largely self-induced) illness. Before I met Dr. Graham I was already an accomplished athlete, ranked number-one nationally and world class internationally. But I achieved those results while functioning at half of my potential capacity on all levels. Since childhood and throughout my adult life, I have privately suffered with clinical depression, bulimia for over 20 years and, and had bouts with irritable bowel syndrome, challenges with my adrenals and other organs, skin problems, and more.
From the outside looking in, I was a self-made, hard-charging success story, and things looked easy. From the inside looking out, I was someone who had yet to achieve. I had a hard time appreciating my own accomplishments and contributions, and how proud others were of me. My habitual ways of living and thinking held me back, and I got by mainly on pure grit and determination.
At the time Dr. Graham and I met, in August of 2007, I was just coming out of being very ill (again). My body had completely shut down that May, just in time for my first competition of the year. Then in June, a major relationship crisis pretty much knocked me out mentally and emotionally. Once again, my season was over before it started. But this time was worse than ever.
They say change does not happen until it is more painful not to change. Never was that saying more true than that summer. The next step is transformation—something that occurs when the results of a change are so profoundly positive that going back is never again an option. That is where I am now. Even though I still eat some cooked foods, it is where I am GOING that is important... and the way I choose to think as I continue moving forward.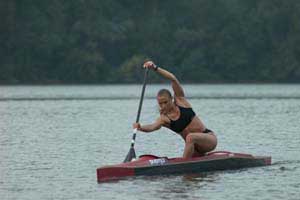 While foods themselves do not make me who I am, I have to say that for me, Natural Hygiene and Dr. Graham's low-fat raw vegan program have proven to be the keys to unlocking my true potential and transforming my whole self, in and out of the competitive arena. I view 80/10/10 as a triad for life: compassion for self, compassion for animals, and compassion for the environment. My focus has not always been about being perfect with the diet, but about wholesale transformation, raising the bar in my training and recovery protocols, and essentially striving to live a compassionate life.
In contrast with the death and destruction of the standard American diet (to humans, animals, and the environment), 80/10/10 is now a no-brainer for me. Dr. Graham and Robert Cohen opened my eyes to the horrific treatment of animals and the disgusting drugs and other chemicals and environmental hazards that are a part of what Americans put into their mouths every day. As I began researching the impact of an animal-based diet, I saw a triad of death, in which I could no longer participate.
Describe your journey to 80/10/10 from the diet you were raised with, to the other dietary approaches you tried, to how you learned about and came to embrace veganism, to where you are now with 80/10/10.
Do you really want to hear this? Okay: breakfast was eggs, bacon, cheese, sausage, toast with butter and jelly or cinnamon, pancakes, waffles (lots of syrup and butter), donuts, cereal, milk (regular, chocolate or strawberry Quik), etc. Lunch was usually deli meat and cheese sandwiches on Wonder Bread, with Fritos, Doritos, or potato chips, and always chocolate milk. Or just leftovers from dinner. Dinner varied, but it included the usual hamburgers, hotdogs, fried chicken or fish, turkey, ham, pizza, spaghetti, overcooked frozen vegetables, biscuits, mashed potatoes, and all the necessary condiments to make them yummy. On special nights, we might have breakfast for dinner, made by dear old Dad, or maybe fried bologna sandwiches, with ketchup. I always drank homemade iced sun tea with tons of sugar, or soda. McDonald's and Wendy's were my preferred fast-food joints, and I would always order the large portions of everything (considered small by today's standards, by the way). Snacks were chips, cookies, crackers, or air-popped popcorn with salt and butter. Where was the fruit? It was in the strawberry milk. I could get away with all of this, being an active skinny kid.
In high school while running cross country and track and playing basketball, I started to get a little "smarter" watching what my older teammates ate, so I stopped drinking chocolate milk all the time and instead drank orange juice with my tuna sandwiches and salty chips. I went from a 5'8", 110-lb. freshman to a 5'9" 130-ish beast by my senior year.
This was viewed as a natural growth spurt and nothing alarming. I was an all-county cross country and track athlete and all-county basketball player recruited by many Division III and II colleges (including the Naval Academy). I ended up choosing Elizabethtown College, a small Division III liberal arts college in Pennsylvania.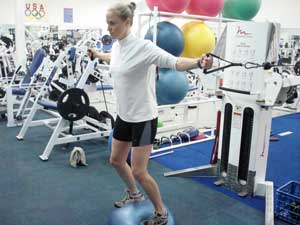 Things changed once I got to college. My first semester was very stressful (as it is for everyone), particularly in light of some very challenging personal/family/relationship issues I faced at the time. I did not run cross-country my freshman year, but played soccer and basketball instead—and I ballooned from 135 lbs. to around 152 by the holiday break.
Still, I was playing like I'd never played before! I was the only walk-on with five other scholarship freshmen, but I was outplaying all of them and became a defensive specialist to boot, coming off the bench early in almost every game. It felt great to have this "fire," and I was getting noticed by my coaches and teammates. The head coach even pulled me aside one practice and said "I think you can be an All-American." And I had big dreams like that too. I played with the boys, and knew I could hang with these girls. But I was eating a lot at night, studying with my hallmates. Our cafeteria had one of the best menus in the nation for a small college, and I took full advantage.
The straw that broke the camel's back occurred shortly after that holiday break, during the winter of 1986–87. The guy I was seeing made a comment that I was fat. Add that to the stresses in my life (e.g., almost losing my college education and getting kicked out of my house because I dated a black man), my low self-esteem, and my self-judgments about all the weight gain, and I broke. That's when the bulimia started, a secret release I found to deal with 18 years of crap, and now college stress. I became a master of secrecy and embarked on a vicious battle against myself that lasted more than two decades.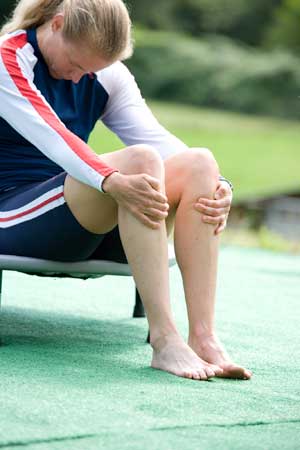 The summer before my sophomore year, I decided to run cross country, and knew that I could be the best on the team. I had already lost 10 lbs. or so that summer running and playing basketball, but I was in full-blown bulimia mode by this point, so a month after joining the team, I had dropped 20 lbs. (down to 122, at 5'10"). But, I was fast again—and I was addicted to being fast.
I shattered school records that year and was the highest finisher ever by a male or female runner from Elizabethtown at the conference and regional finals. I was the first ever E-town 1st team all-conference runner and regional All-American—male or female. I continued through my junior and senior years, despite gaining back 25 lbs. (yes, bulimia can make you gain weight, too), setting records that stood for almost 13 years. In addition, I was on a nationally ranked basketball team that, in my junior year (1989), won the national Division III title, a pinnacle of my collegiate career. I was later inducted into the college's hall of fame for basketball, both as an individual and with my '89 team, and for cross country.
I have no idea how I functioned during this time, but I do know I was only functioning at half capacity, at best. People who know of my history may misperceive my current diet and lifestyle regimen to be nothing more than a continuation of disordered eating behavior. In my view, however, this path is probably the best avenue to breaking addictive eating cycles, healing from depression and suicidal tendencies, and achieving a peaceful, ordered, and healthful relationship with food, and with life. In spite of their judgments, no one can argue with my results.
(As an aside, I would love to see Dr. Graham develop seminars for female athletes with eating disorders or other food/body-related issues. People will learn first hand that food is our friend—and so is life.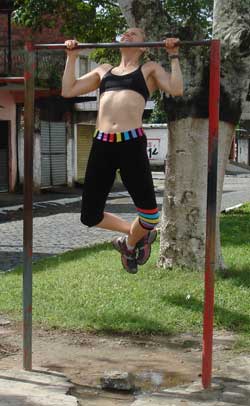 Between college graduation in 1990 and late 2001, I ate a huge amount of bread, pasta, and cereals, in addition to animal products of all types. I took a lot of vitamins and supplements, and added whey protein to just about everything.
November of 2001 marked the key turning point in my dietary regimen. I started what would become a tumultuous (good and bad) on-again/off-again four-year relationship with a PhD nutrition/trainer guru, who introduced me to the raw food movement and David Klein's Living Nutrition magazine. I immersed myself in his library of about a thousand health-related books and magazines, many of them on raw foods, colon cleansing, and fasting, as well as traditional athletic and muscle-building training protocols. My knowledge on these topics grew by leaps and bounds, and I learned a great deal about more advanced training protocols. I actually found Dr. Graham's work on my own on the Internet, but my boyfriend dismissed him as nonsense, so I kept the information at my house, tucked away and to myself.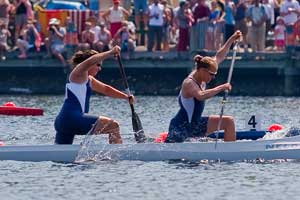 Over the next six months I slimmed down from a hefty 158 lbs. of moosh, fatigue, and depression to 142 lbs—lean, ripped, and strong. My strength and agility improved, and I was very fit. I could do 15 pull-ups in a row, or reps of pull-ups and dips with 35–45 lbs. around my waist. It was unfortunate that I was not canoeing as much as I should have been at that time (due to relationship issues).
On the diet front, I completely eliminated all the complex carbohydrates (primarily breads, pasta and cereals) that had kept me slow, sluggish, flabby, and weak. I also significantly increased my lean meat intake (fish, chicken, turkey, and occasionally sushi), boiled eggs, vegetables, rice, and oatmeal. My fruit intake increased as well, primarily by the addition of morning smoothies (with whey protein) and two or three bananas post-workout, (considered a binge at that time). Liquid meals were a key diet strategy. My body went through major transformation during the next few years, and I was featured in several major magazines.
By the time Experience Life put me on the cover of its November 2005 issue, I ate a lot more fruits and vegetables, but still included fish, chicken, and lots of whey protein in my program. I still had major bouts with irritable bowel and continued to struggle with bulimia (fortunately less often,—once every six weeks or so). Essentially, on the outside I looked pretty good, but I was still a mess on the inside.
After another very successful racing season in 2003, I crashed and burned badly and ended up taking off from racing/training in canoe for all of 2004, which really ripped me up emotionally. I resumed racing in 2005, primarily in Canada (where the best paddlers in the world train and compete), then returned to racing in the U.S. in 2006. I also ended that personal relationship—for good—at the beginning of 2006.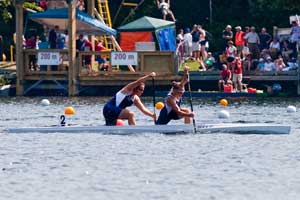 The knots in my stomach slowly started to go away after this. Ending that negative relationship, which was such a powerful controlling force in my life at the time, was one of the bravest things I had done. Thankfully, this marked the last of a string of negative/controlling/abusive relationships. The cycle was broken, but strangely, they were all just "northern stars" pointing me in a better direction.
By early 2006, I had significantly reduced all dairy and meat intake, except for the occasional fish and my favorite ice cream. I ate considerably more fruit and salads, but still included a lot of "healthier" grains, like quinoa, in my diet. And I still used a lot of olive oil and other condiments. I probably ate about 50–60% raw, but my fat intake could have been 40% or more.
It was at this time that I got into a wonderful relationship with someone who thought what I did, and who I was, was pretty amazing. He was overweight, but I did not care. While we were together he incorporated a lot of my fruit smoothies and salads into his diet, we exercised together, and he dropped almost 30 pounds. This energized him—and me in return! I had one of my best canoe seasons ever. We both kind of came out of a depression and toxic relationships together, and the positive energy was unconditionally nurturing, magnetic, and transformative. While the relationship wasn't perfect, and it ended when he went overseas with the military, it drove home for me the vital role that positive, nurturing relationships play in our capacity to achieve extraordinary health and well-being.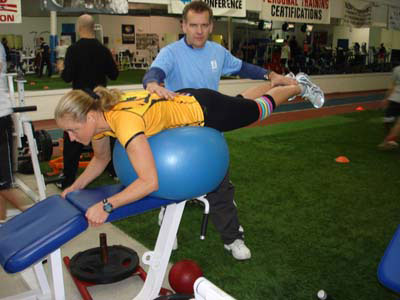 I'd like to shift to your sport and training now. How many days/hours a week do you train?
I train 6 days a week, approximately 10 to 12 hours total.
Give us a sample of your daily diet and lifestyle routine.
I train on weekdays at 6 or 6:15 am, either with my canoe club team or with my new canoeing partner (a former Mexican Olympic kayaker). This means getting up at 5:15 a.m. Saturdays in the winter, practices are at 7:30 a.m. Spring through fall, Saturdays are always 9 a.m. with the team on the water. Sometimes I train on my own on Sundays, or do "war canoe" (6-person high-kneel canoeing) with a men's group, though Sundays are sometimes good to have completely off to rest more and do personal things (like cut my grass or keep my house in decent order). By the end of February, Saturdays and Sundays will become two-per-day training sessions, to take advantage of rest time between workouts, with no job to go to. We run, do the canoe/kayak ergometers at the canoe club, and/or lift weights. We should be back on the water in March, and stay on through November.
Before my morning workout (if I have made time) I usually like to juice 7 to 8 oranges and then blend the juice with 1 to 2 pounds of grapes, two large apples, and occasionally a little fresh ginger. Or pineapple instead of grapes if I have it. I sip this pre-workout, just to get going. I might also sip while lifting weights or after the cardio. I finish the smoothies post-workout (usually sipping on the drive into work), then gravitate to bananas or a banana smoothie (which might be 8 or 9 bananas with or without coconut water, if I had time to prepare two batches of smoothies). Workouts usually end about 8:30, and I get to work around 9 a.m. each morning .
During the workday I try to continue eating fruit (ideally more bananas for lunch), but sometimes I eat salad, grape tomatoes (which I love with grapes) or other vegetables, just to break things up. But, I've learned that if I can eat fruit like bananas (with the possible addition of celery or tomatoes) throughout the day, I am much stronger and have more stamina for my evening strength sessions (and no IBS problems). On rare occasions I have included a little durian in the smoothies if I drink them for lunch, but too much durian does not sit as well with me so I have not incorporated that as much. I like to keep leftover smoothies for after my evening workout before I get home to eat. Or if I have planned well I have extra bananas waiting for me in my truck to eat on the drive home. I am learning that I need an absolute minimum of 10–15 bananas as a daily base.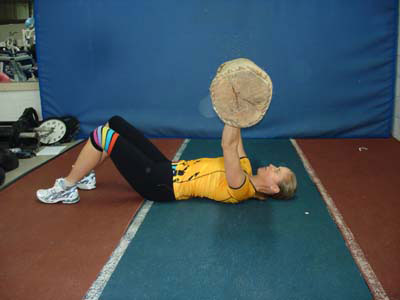 My days are very structured. I work out for an hour on Monday and Wednesday evenings, with professional master trainer Kevin Maselka, the "Fit Guru." On Mondays I hustle out of the office about 5 p.m. and sit in traffic for 45-60 minutes (ugh). Wednesday evenings the drive is about 25 minutes into DC. But I would go through hell and high water for the opportunity to train with someone like Kevin. He has trained professional and Olympic athletes for 25 years, and I am so blessed to be working with him. Like anything I do with Dr. Graham, my work with Kevin goes not into the "cost" column, but into the investment column.
Kevin has helped me increase my physical and strength conditioning (doing some of it with eyes closed), helped me with my mental training, and most important, rehabbed me from a serious shoulder injury in 2008 that could have ended my career. We continue to up the ante and look forward to 2010 together. I think I have rubbed off on him a little, as he now includes more fruit for his own training (he does a lot of cycling, some with pro athletes), and has been a co-crusader for the elimination of dairy and encourages all of his clients to increase their intake of fruits and vegetables. That part has really meant a lot to me.
I arrive home on these days by about 8 p.m. The rest of the week I get home a little sooner, unless I go out to dinner with friends, in which case it might be 9pm. I occasionally lift weights on Friday evenings if I do not get it in in the morning. Once home, I unpack from the day, wash dishes, sometimes do a load of laundry, and then pack both work and workout clothes for the next day and set aside food for the next day. I check email, which can sometimes take a lot of time and energy. I also have been writing a lot, for work with USA Canoe/Kayak, and for magazines and interviews. It is fun, but I admit that this can keep me up way past my bedtime and can become very draining.
Another critical component of my training is making time to watch race video, study photographs, and do mental imagery (or "feelagery" i.e., feeling myself do motions, say with my eyes closed or just in my head) on my own. Studying the sport is just as important as doing the sport, and given its highly technical nature, in an unstable vessel, the hope is that feeling and seeing what is "supposed" to be done will transfer over to what is actually done on the water. Additionally, I work on balance exercises either with Kevin or by myself at the canoe club or my house. While balance in a boat is a special skill, something many in my sport learn as a child, I have worked hard to overcome the disadvantage of starting later in life (at age 32) by doing as much balance work as possible on dry land, and in the boat.
Ideally, I need to be asleep no later than 9 p.m., and I really need to have finished eating by 7:30 to 8 p.m. Thank goodness for the weekends. Sometimes I actually schedule myself into my calendar on weeknights so I can have the evening to myself. I really need to do this more.
I have a lot of fun preparing meals and sitting down to eat them. My favorite homemade dinner is raw spaghetti, with cucumbers as the noodles, topped with a blend of tomatoes, sun-dried tomatoes, fresh basil, a little bit of garlic, a third to a half of an avocado, and a little bit of fresh-squeezed orange juice. I garnish the dish with chopped bell pepper and maybe a little celery. Sometimes I sprinkle on raw pine nuts as well. This spaghetti sauce also makes a great salad dressing for a big pile of greens and bell peppers. As I learned at Dr. Graham's Health and Fitness Week event, I can drink a fruit smoothie before my meals to get calories in, then wait a little while and follow up with a meal of vegetables and nonsweet fruits.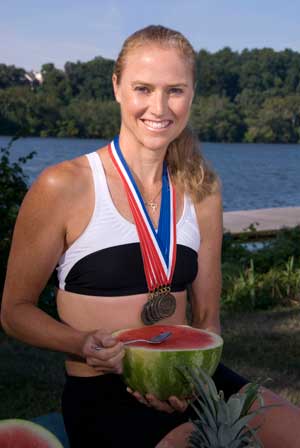 My favorite fruits are persimmons, mangos, bananas, grapes, melons, oranges, and apples, as well as tomatoes (especially grape tomatoes), and avocado, though I do not like to eat a lot of avocado. My favorite vegetables are celery, carrots and lettuce greens (I still need to expand my repertoire a bit there), and for nonsweet fruits I enjoy cucumbers and bell peppers.
For those dying to know what cooked foods I still eat (sorry Dr. Graham!!), I like sweet potatoes, garbanzo beans in salads, hummus, and soups (taking care to watch the salt). At restaurants, ordering all-vegetable meals, or even uncooked meals, is becoming easier as I get more bold in asking for what I want—putting together pieces of the menu for myself.
Don't you think you eat too much fruit?
This is definitely the most fruit I've ever eaten in my entire life! Three years ago I would have thought this diet was nuts. Now, I think it's brilliant, and there's no turning back. I just try to get enough calories, and I'm still learning to eat more. The key for me is to consume the highest-quality calories, and fruit has the highest calorie-to-nutrient ratio. Even the International Olympic Committee put out a nutritional publication lauding fruits (and vegetables) as critical components for high performance.
High fruit intake (and low fat) throughout the day is a critical factor for success on this program, and for raising your athletic game. Many raw fooders fail and blame the diet, when all they eat is salads and vegetables. They get full because of the fiber, but they lose too much weight and lack energy. Most of those people make up for the lack of calories with fats, like nuts/seeds, nut butters, and oils (which almost always come with other salts and spices). This is the case in the "gourmet raw" diet. But that's another topic.
My 2007 trip to Banana Island was certainly the pinnacle! But this process is pretty fun, quite tasty, and when appropriate can be quite seductive!
Other people sometimes have judgments about the way I eat. For example my cubiclemate once asked "Don't you get constipated from eating all those bananas?"
I replied "No, I'd get constipated eating the bacon/egg/cheese biscuits you had for breakfast." I also informed him that being nosey is constipating. He hasn't bothered me (on this topic) since.
But honestly, fruit is my fuel and if I can keep the fruit calories up (still a challenge) and the fat down (easy), I will continue to get stronger and perhaps put on a few "real" pounds of muscle (assuming my sleep is in order, but that's another topic, too).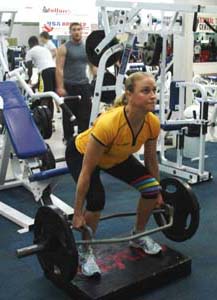 Besides diet, food, and nutrition, what other lifestyle factors do you find most important in supporting you in following 811rv?
Many of my strategies are for supporting myself in anything, but they only accentuate the power of 811rv.
Getting enough sleep. I need a minimum of nine hours each night (or 63 per week), but sometimes I only get eight, and during the last few months, it has sometimes been seven. I pay for this deficit later, and end up crashing on the weekends. I have been known to take midday naps in my truck (this is a clue).
Getting regular massages. I get a professional massage once a month.
Dedicated stretching, even if it's in the ladies room (those overhead bars across the stalls are great for stretching your arms/shoulders/lats). I also stretch (only when alone) in elevators. I also stand toward the back and stretch during stand-up office meetings. Rolling on a Styrofoam roller is also recommended.
Meditating, or simply being still and present.
Eating more slowly. Chewing completely, tasting and enjoying everything.
Avoiding stressful conversation around meal time.
Avoiding eating when stressed (hah!—the $64,000 challenge).
Eating only when hungry. Stopping when full.
Reducing the time I spend eating and working at the same time.
Stopping several times a day to inhale deeply (from my stomach, not my chest) and exhale slowly and fully with my eyes closed (brings the heart rate down), and getting up and walking around at the office.
Managing my energy (avoiding energy vampires): for example, saying "no" to project/to-do overload; getting away from computers and television when possible; surrounding myself with positive, supportive people; eliminating negative people, images, and even thoughts (including my own); saying "yes" to living, and thinking like a champion every day.
Finding people who share a reasonably similar lifestyle and have similar core values.
Believing in myself and literally telling my cells that my goals are possible. I do believe cells change with thoughts (for better or worse).
Keeping positive thoughts and reminders on my refrigerator, my home office wall near my computer, and keeping a file of inspirational quotes. (I constantly repeat that my life will move in the direction of my most dominant thoughts.)
Having clear, purposeful goals, and living passionately. For me, 80/10/10 provides the greatest foundation I have experienced for launching myself into greater personal, athletic, and professional achievements.
Writing down my goals and sharing them with at least one person.
Being humble and open to the possibility of growing/evolving with someone else.
Giving to others, whatever that entails.
Extending grace and being nonjudgmental toward others who are on their own path, knowing how much grace has been extended to me throughout my life.
Remaining calm when others attack me for my lifestyle. I arm myself with humorous responses and focus on what my diet does for me. And I do not try to be a know-it-all, arguing with them over minutiae.
Having gratitude.
Saying "I'm sorry."
Being a lifelong student (a Grasshopper).
Smiling more than frowning.
Keeping it simple.
I view 811rv as the ultimate in health and performance, and the foundation for my success. When I eat this way, it is easier to do these things, and the positive cycle continues.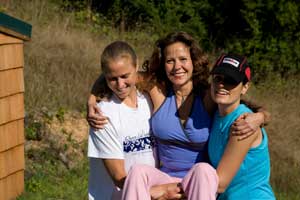 Do you ever wonder whether you're getting enough (protein, calories, micronutrients of your choosing)?
No. Last I checked, I am not experiencing a protein deficiency and I am not skinny. My hair is getting curlier, my nails are strong, my skin glows, and I'm getting stronger by the week. On the other hand, my animal-eating friends seem to be sicker and more unhealthy by the day.
What are some of the personal benefits (excluding athletic performance) you've experienced since transitioning to an 811rv diet?
Increased mental clarity/acuity.
Better recovery from workouts (when my sleep is in order).
Better digestion, absorption, and elimination—the best I have had in my entire life (except maybe when I was a baby).
Clear skin—people say I glow.
Greater sense of purpose and passion for living.
Better/sharper sense of humor.
Internal peace—feeling more at ease.
An internal clearing and lifting of mental "fog."
Ability to love others and give to others much better than at any time in my life.
Better and more enjoyable sex.
Deeper spirituality.
Greater awareness of the world around me and how we are all interconnected.
Compare for us your experiences eating a low-fat raw diet versus the popular high-fat version? How do you view the two differently?
Luckily I started working with Dr. Graham right away, so I have avoided the high-fat path. I went to a few local raw food seminars with unnamed "leaders" in the raw food movement and I was aghast at how the foods were prepared. They really did taste just like the SAD diet and frankly, they would keep me in a state of feeling heavy, tired, and "binge-y." Low-fat raw vegan is a revolution—and more medical professionals are recognizing what Dr. Graham and others have been saying for decades!! This is the way of the future, and people are "getting it."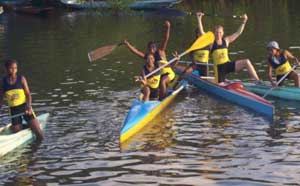 How have you found it socially to eat this way—either with friends or dating (since you are single)?
There is a dating scene? After eating so many bananas (sometimes during meetings, but always a pile at my desk) and sleeping in my truck, I have solidified the "no dating scene" situation.
All kidding aside, I still enjoy going out to eat. At times I have struggled with feeling like an outsider, even among my vegan friends, but this is getting easier as I become more and more at ease with my own routine—and more confident in its results. I am becoming an expert not only at choosing restaurants, but also at asking for off-menu items or special preparation. (And I'm better at eating before going out). My friends are used to it, but I really try to not make a scene. If I am with a new person, I might get up and make special requests of the server away from the table. Many restaurants offer raw vegetables and fruits on the menu, served as sides to other entrees. So I ask for those as a meal, with a large salad. Many salads come with nuts and raisins or cranberries. The nuts are not raw, but if there are only a few I eat them anyway. I am not a big nut eater, but sometimes they are a nice change. Many of these salads come with cheese, so I ask for them without. If the vegetables are cooked, I ask for them to be steamed al dente and served without salt or oil. At Asian and Middle Eastern restaurants, I have eaten dishes with rice as well, and most are happy to serve them as I wish. One restaurant near me that many raw dishes Sunflower Vegetarian. I can get a meal entirely raw, and I get the same thing every time. They know me by name now and know exactly what I want. Occasionally, I will get their miso soup with daikon, but with no tofu. It is a 6-oz. cup, so I plan accordingly for the salt deluge.
The hardest part socially is showing the amount of food I can eat, Ten bananas or half a watermelon at a sitting is nothing in "our world," but to the average person, it is disturbing. And to the average guy—this all just might be a deal breaker!! I am learning to eat before going out sometimes, so I can be quasi-normal. Once I get to know a person, then I can ease back a bit and eat how I want and it is not so alarming.
How have your family and friends reacted to your dietary choices?
Very well, for the most part, mostly because I have learned how to better answer their questions or even their targeted attacks (which do happen). I tell them that I like to eat things that like me as much as I like them. If I like a food but it causes me pain or discomfort, then I will not eat it (kind of like not being around people who cause you pain or discomfort). Sometimes I have eaten foods that do not like me, and I have paid the price. There are consequences with everything, so make intelligent choices if you eat non-raw foods. As an added bonus, the foods I eat help me get stronger, faster, and better in everything I do. People cannot argue with my results, and I can easily divert the topic after that. There is nothing else to discuss.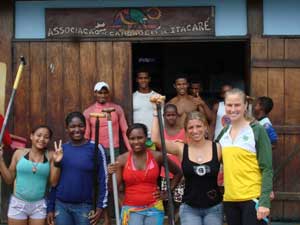 How have others in your sports community reacted to your dietary choices?
Meat eaters have mocked me pretty harshly at times, and lauded me at others. The negative ones sometimes make a few changes in their lives and tell me about it later. Many of them admit to major health problems and start thinking differently about their dietary choices. For the most part, wherever I have gone, people have made changes as a result of how I have eaten around them (not necessarily based on my words). And many times people ask me for advice.
The father of the top junior female slalom (whitewater) paddler asked me recently to mentor his daughter in her nutrition. He has watched me for a few years and read my website and said he and his daughter knows that nutrition is a missing link with her. Without my saying a word, they approached me. This made me feel really good, and I am honored to help her and others in any way I can. People at work ask me questions all the time, even the cleaning people (because they are constantly picking up my compost!)
Frankly, I really do not care how people react to my dietary choices. I simply like watching reactions to my performances. My training progress speaks for itself. People see how I operate and who I am (particularly being an older athlete in a kids' sport), and they learn from my example, without my having to say a thing. There are a lot of successful champion athletes, but very few are healthy and successful for a lifetime. I want to be the latter (like Ruth Heidrich and Martina Navratilova), continually raising my game.
I haven't reached my peak yet, and I have not achieved all of my goals. If I do not perform well, they will blame the diet (and my age). But I know better what can inhibit my performance. If I perform well, they will cry drugs. I look forward to the latter and will invite them to observe my drug tests.
Have you had success finding ripe fruits when traveling?
In 2009, I was very fortunate with traveling for training and competition. In April, I traveled to Chula Vista, California for the national team trials and stayed with a friend, so I was able to go grocery shopping for fresh produce. She let me take over most of the countertop space and a section of the refrigerator. Of course I dominated her blender, too. I went to Rio de Janeiro in July 2009 for the Pan American championships and stayed with the Brazilian national team at a place called Clube de Militar. We had 3 outstanding meals per day and I was able to get a ton of fruit for breakfast and lunch. The vegetables at dinner were all cooked, but I was surprised that they did not cook them with salt or overcook them. They accommodated me very well, and it helped that I worked hard at learning the language to ask for what I needed. At the race course, a vendor sold coconuts. I drank 4 to 6 coconuts (about 12 oz. each) every day. I went to Ubaitaba and Itacare (in the state of Bahia, Brazil) for a week, and I was able to eat almost completely raw there. I drank 6 coconuts a day and bought fruits at an outdoor market. I ate some cooked food, but it was fantastic how plainly they prepared things there. If people wanted salts or other toppings, they had to ask for them.
For the world championships in Nova Scotia, once again I was fortunate to stay with a friend and this time I traveled with my Vita-Mix. The family was a little alarmed at the volume of my compost. My friend had to change the compost bag almost daily (oops!). I was very close to all raw there, and it felt great. Then at the national championships in Gainesville, Georgia, I stayed with a friend and did the same thing. This is why having friends all over the world is so important!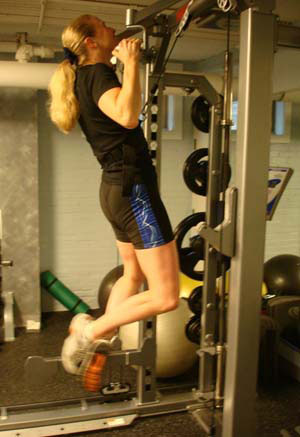 2010 will be very interesting. I plan to go to the Olympic training center in Mexico City for 10 or 11 days with my training partner. At 9,000 feet above sea level, it provides optimal training. Additionally, her parents live there, so we will stay with them. She is aware of my diet and fruit intake, though she is still alarmed at how much I want each day. I will be prepared to buy everything, so they will never be burdened by my needs. We plan to go straight from Mexico City to the national team trials in Chula Vista at the end of April. I will stay with my friend again. Trials #2 is in Lake Placid, New York, and I always stay in a hotel and drive to the grocery store.
If I go to Romania for two weeks in June and stay at the Olympic training center there, things could get a bit dicey. My canoe coach from Gainesville, Georgia is aware of my needs and has always wanted his athletes to pay attention to how I eat, but I still do not think he really understands the quantity of fruits I will need. Also, they need to be ripe (which means I need to place my order 4 to 7 days before arrival for things like bananas). Additionally, the world championships are in Poznan, Poland. Assuming I make the team, I will be there for a week. My coach is from Poznan, so I will ask for his help in getting fresh fruits. He thinks I am crazy and should be eating meat, but he knows it is important to me and is impressed that I am still a part of the elite training program at the club eating all this fruit. This will be a challenge, but I will do whatever it takes. I can travel with the packaged coconut water they now sell (inferior as it might be) and with dates and raisins. I will seek specific advice from Dr. Graham when the time comes.
The national championships are in Oklahoma City, so I will not have a problem there. The Pan American championships are in Mexico City in October. We will most likely stay with my training partner's family and go 10 days early to train at altitude and take advantage of getting used to the environment (including the smog). I have read that this diet can help alleviate issues with bad air, so I am hoping this can be used as another "strength" to take into competition in Mexico.
Can you give an example of what you have eaten during periods of maximum exertion or during competition?
During August of 2009, I was in Nova Scotia for two weeks, first for the pre-worlds development camp, then the world championships. I pretty much ate the same thing every day. Every morning I made at least Vita-Mix full (sometimes a little more) of my citrus smoothie with OJ, grapes, apples, and ginger. I drank some before the workout and finished it after. Then I would eat 8 to 10 bananas. I also kept a huge bag of grapes and grape tomatoes (I liked eating them together). I napped mid-day, then returned for the afternoon session. I ate bananas after the workout, then returned to the house and had a huge salad for dinner. Prior to the competition, this salad would include garbanzo beans, and I also had hummus and veggies on the side.
Once the competition started, I eliminated the hummus but still included garbanzo beans in the evening salad for whatever reason. The day and night before the two days of the competition, I ate 100% raw and mostly fruit. Each day I carried smoothies and bananas with me. I preferred to eat the grapes and grape tomatoes during the day at the race course, as I really did not like that much on my stomach. I ate what I felt I needed, and nothing more.
I did lose weight during this very intense time, but I did not go below 147. I felt incredible—strong in mind and body.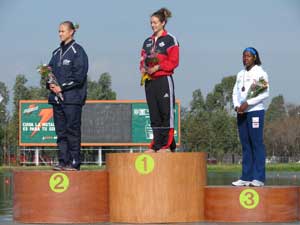 Two notable competitions in 2008 and 2009 were the national championships (in Oklahoma City and Gainesville, Georgia, respectively). Temperatures ranged from 105 degrees in OKC to the high 90s in Gainesville. I ate primarily watermelon, clementine oranges, grapes, and grape tomatoes each day. While many suffered from heat exhaustion, I had no trouble with the heat.
What are some of your most notable recent athletic achievements while maintaining a strict 811rv diet?
At the world championships, racing in the C2 500 and C2 200-meter events, we placed fifth and sixth overall (missing fourth place in the 500 by 0.4 seconds). We had the second fastest time ever by an American crew (and we had only been training together for a few weeks). And we set an American record in the C2 200. I remain undefeated in the C1 1000-meter event in the U.S. and won the national title again this year.
What athletic goals do you have moving forward?
Be able to take time off work to train in Mexico City prior to the first national team trials in April.
Win both national team trials, in the singles and doubles events (C1 and C2 500 and 200 meters).
Train with my canoe coach in Romania for two weeks in June, prior to team trials #2.
Top 5 at the senior world championships.
Win the national championships in all of the singles events (1,000, 500, and 200 meters) and doubles events (same three distances).
Break my national records in the 1,000 and 500-meter events and reclaim the 200-meter record.
Train in Mexico City for two weeks prior to Pan Ams and medal in all events in which I participate.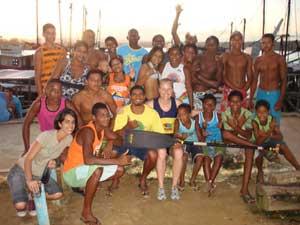 What do you imagine is the future of vegan athletics?
The future of athletics—period—is a low-fat raw vegan diet composed primarily of whole, fresh, ripe, raw, preferably local and organic fruits and vegetables, predominated by fruit. If people don't get on the train, they will get run over by the train. People are seeing the light, and the undeniable results of the many endurance, sprint, and strength athletes Dr. Graham is working with. He is trying to connect us all, to build a supportive and powerful community.
But this goes beyond vegan athletics. I know a lot of sick vegans. You can eat pasta all day and stay slow and fat. Do not settle for simply being vegan!
What is your personal opinion of Dr. G's book, The 80/10/10 Diet?
It's simple and easy to read, and very well organized. The personal stories in the back really drive things home and bring humanity to this lifestyle. Dr. Graham makes it all real and allows us all to be real in our own way. The tables and sidebars are excellent, and the sample menus offer a critical reference to see just how simple and DOABLE this diet really can be. Each time I read it something else jumps out at me.
Have any particular points or messages in The 80/10/10 Diet stuck with you, above all else?
Eat a ton of fruit. Get enough calories to meet your needs. Get enough sleep. Stay hydrated. And incorporate into your life the elements of health and well-being outlined on page 10. I frequently refer back to his "Humans vs. Carnivores" sidebar on pages 16–18, because so many people tell me we are designed to eat meat and that animals were put on this earth to feed us. That simple summary has helped me in many conversations.
Do you think people on a tight budget can do this diet?
Yes, for the most part. I do have friends who are truly struggling below the poverty level or for whom it is very hard to make ends meet and stay off the streets. But when you really get personal with people about their spending habits, it often becomes apparent that they spend their money on a lot of things that are not necessary IF optimal health and/or maximum athletic performance are their priorities. Have pets? Cable? Gadgets? Go out to restaurants frequently? Buy new clothes often? Spend loads of money on supplements or over-the-counter remedies? I see many people take better care of their dogs, their homes, and their cars than they do themselves. If you buy the best fuel for your vehicle, why not buy the best fuel for the only body you will ever have?
Looking back, is there anything you would change about how you transitioned to 811rv?
No. All my mistakes made things more real for me and just further ingrained the transformation. They closed doors permanently behind me—like erasing roads that I can never go down again. Do I wish this transition wasn't taking so long? Sure. But I know I am moving in the right direction, and I am so much better for it.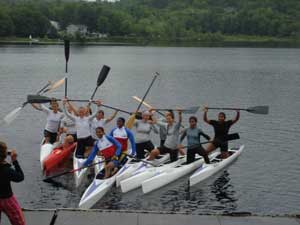 What advice would you give a newbie to 811, or someone who is looking to refine their program?
Truly study Dr. Graham's material (including his Cause of Health CD **temporarily out of stock** set—truly a timeless masterpiece), and commit to attending at least one of his seminars, plus his annual late-summer Health and Fitness Week event. Get immersed in the program for real. Then take it home.
Do not start unless you are truly prepared to endure some initial discomfort—physically, mentally, and emotionally. You WILL detox, and it could last a while, depending on your baggage load.
Once you start, you need to commit to the program for a while before making any judgments about its Power (with a capital P).
Implement the program correctly. Many people either quit too soon or do it wrong. Many even eat very high fat, not realizing it. They complain their blood sugar remained high, not connecting that to their high fat intake. Additionally, they do not take in enough calories, get really skinny, and complain that this diet made them skinny. Not eating enough calories makes you skinny.
Recognize that the energy you will feel can be overwhelming. Learn to embrace any scary feelings, and they will propel you to another whole level of awareness and being.
Get enough sleep.
Stay hydrated.
Exercise.
Find humor in the process.
Get your head and your emotions out of the way and listen to your body. Give your body what it needs.
Be patient with yourself, extend grace to others, but at the same time push yourself like a champion, every day.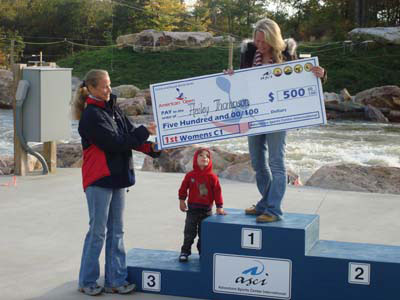 To wrap up, I hope that my going into detail about all my accomplishments hasn't come across as bragging. I mention these things not to impress you, but to impress upon you the fact I accomplished so many small successes while functioning at just a fraction of my capacity. Who wants to live like that? The contrast makes me even more grateful for the extraordinary life I now live, and I look forward to even greater things to come.
I sincerely hope that sharing my trials will hold up a mirror for at least one of you who struggles with similar issues. I want to inspire you to believe in your inner warrior and your will to survive and thrive. And if you wish, I invite you to embrace the principles of 80/10/10RV, to live the magnificent life you deserve, and to be the exceptional person you know you can be. Get out of your own way and let your light shine!
To read all interviews in our 80/10/10 Allstars series, visit the FoodnSport blog.