"80/10/10 Food & Lifestyle" And "Women's Physique Week" Retreats Announced : Plus Retreat Educational Webinars - Sign Up Now!
Published: Fri, 6 Jun 2014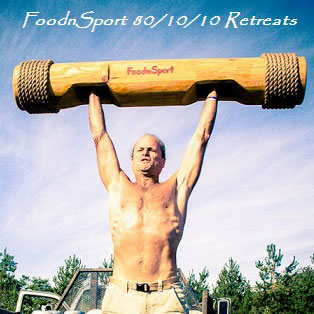 We are pleased to announce our newest Retreats for 2014, as well as our
upcoming educational Webinars.
Each Webinar will focus on one Retreat and Dr. Graham will also be
teaching on a subject relevant to that Retreat.
As always, the Webinar will feature a live Q&A so you can get all of your questions answered.
You can find the full Webinar schedule and registration links further down in this article.
This year we have introduced 3 new retreats, due to popular demand.
The first is the 3-day
"80/10/10 Food & Lifestyle"
retreat, which was
created to serve those who are getting started with 80/10/10 or need helping making it work for them.
In 3 days you will learn the basics of 80/10/10 culinary skills, how to integrate fitness into your busy schedule, and how to handle the social and emotional challenges we all face living 80/10/10. Of course, all of this will happen with complete support from our caring and knowledgeable FoodnSport staff, in a small group setting (maximum 16 attendees)!
Many people ask – is Dr. Graham at all of the retreats? Absolutely! He is intimately involved in each and every retreat – teaching, leading fitness activities, answering questions and ensuring that every single person is getting what they came there for. These retreats are unlike anything you have ever experienced before! Find out more about each retreat by attending one of the educational Webinars (listed below).
The second new retreat is
"Women's Physique Week"
which, as the name implies,
is for women only!
This retreat has been in high demand for years, and Dr. Graham created it so that
every aspect of the program is tailored specifically for women.
Not only will you learn everything you need to know about 80/10/10 health and fitness and facing social & emotional challenges, but you will leave with a highly personalized fitness plan to achieve your specific goals. And as with all of our retreats, Women's Physique Week is limited to 16 attendees.
To find out more about the how this program might be right for you or a woman you know, join us at the Overview Webinar or the Women's Physique Week Webinar (Wednesday, June 11th @1pm PST).
And finally, if you love to create raw vegan cuisine for your friends and family, and want to take your skills to and unprecedented new level, then
"Culinary Skills Professional"
might be just what you are looking for. This 2 week program is open to anyone who has attended the Culinary Skills Week Retreat (or does so in 2014 prior to CSPro). Once you complete Culinary Skills Professional, you'll be prepared to advance as an executive chef for a Raw Festival, start your own raw food restaurant, teach raw food classes or cater in your local area. This specialized program is only available to 4-6 chefs given the high level of mentoring required.
We will also be running our wildly successful
Health & Fitness Week, Culinary Skills Week and Banana Island
Retreats and you can attend a Webinar to find out more about each one.
Webinar Schedule
1.
Overview
Wed, June 4, 2014 @

1pm PDT

*CLICK FOR RECORDED REPLAY*
- Educational Topic: "Models of Health"


2.
Women's Physique Week
Wed, June 11, 2014 @

1pm PDT

*CLICK FOR RECORDED REPLAY*
- Educational Topic: "How Can I Get Slim and Toned, Without Getting Big and Bulky?"


3.
The Science of Health & Fitness
Thurs, June 12, 2014 @

1pm PDT

*CLICK FOR RECORDED REPLAY*
- Educational Topic: "When Are Sports Injury Most Likely To Happen and How To Avoid Them"


4.
811 Food & Lifestyle Retreat
Sat, June 14, 2014 @

10am PDT

*CLICK FOR RECORDED REPLAY*
- Educational Topic: "How Did I Come Up with 80/10/10 and Why Does It Work So Well?"


6.
Banana Island
Wed, June 18, 2014 @

1pm PDT

*CLICK FOR RECORDED REPLAY*
- Educational Topic: "What's The 1 Biggest Secret Technique For Handling ALL Emotions?"


7.
Culinary Skills Week
Thur, June 19, 2014 @

1pm PDT

*CLICK FOR RECORDED REPLAY*
- Educational Topic: "What Are My 5 Favorite Kitchen Tools and How Do I Use Them?"


5.
Health and Fitness Week
Sat, June 21, 2014 @

10am PDT

*CLICK FOR RECORDED REPLAY*
- Educational Topic: "How Much Training Is Too Much Training?"


8.
Culinary Skills Professional
Sat, June 21, 2014 @

1pm PDT

*CLICK FOR RECORDED REPLAY*
- Educational Topic: "Are You Ready To Be The Executive Chef at a Festival? How To Plan Food For A Largescale Event?"


---