Nori Rolls with a Tangy "Peanut" Dipping Sauce
by Dr. Douglas N. Graham and Chef Katy Craine
Published: Tue, 29 Apr 2014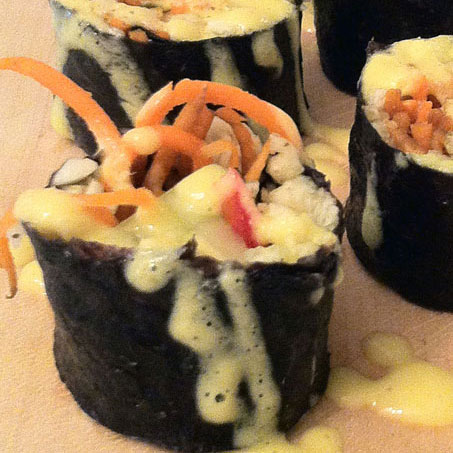 Ingredients:
1 small Mango
1/2 inch Ginger
2 tsp. Shitake Mushroom Powder
1 tbls
Raw Tahini
8 oz. Orange Juice
3 ea Raw Nori sheets
1/2 medium Cucumber
1/2 medium Red Bell Pepper
1 medium Carrot
2 medium Zucchini
Method:
Blend mango, orange juice, ginger, shitake powder and tahini until smooth. Use this as your dipping sauce.
Peel and chop zucchini and make into a rice like texture using the s-blade of a food processor. Add 1 tsp of shitake powder and mix.
Julienne slice red pepper, cucumber and carrot.
Spread about 3/4 cup of "rice" over the lower half of the Nori roll and line up a portion of julienned vegetables.
Carefully roll the sheet from one end until completely rolled and cut into eight even sections with a sharp knife.
Arrange on a platter and garnish with a drizzle of sauce.