80/10/10 Raw Recipe Book on Amazon Kindle from Dr. Graham : Free May 24-28, 2014
by Dr Douglas Graham and Katy Craine
Published: Sat, 24 May 2014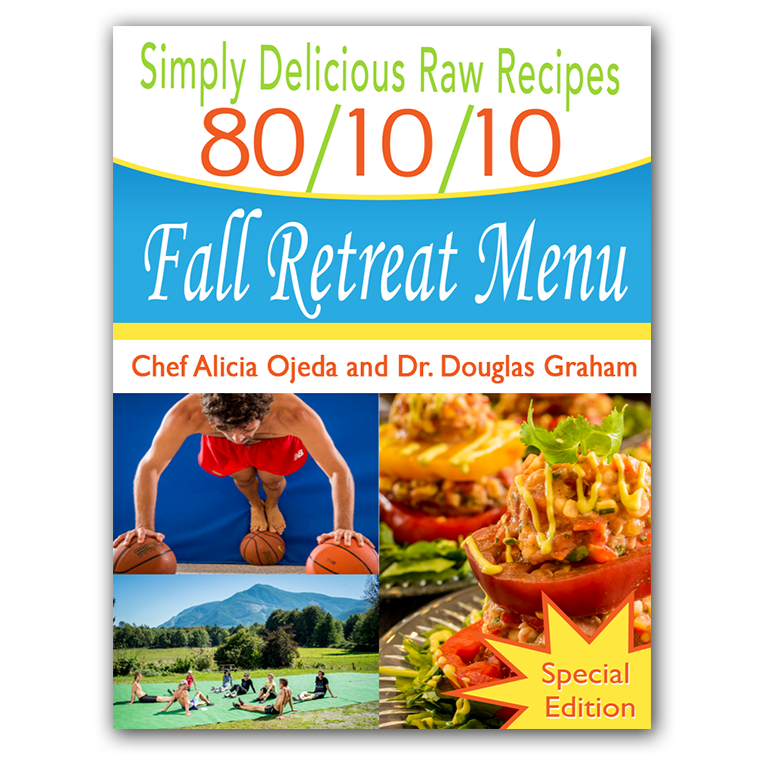 Get these fantastic 80/10/10 Raw Vegan Recipes from Dr. Graham – Absolutely FREE May 24-28th)!
---
Although the free book promotion is over, you can get the Simply Delicious 80/10/10 Raw Recipe books on Amazon and iTunes.
---
Dr. Graham tells you all about it in the short video below.
Simply Delicious Raw Recipes: 80/10/10 Retreat Menu
We are releasing the Simply Delicious 80/10/10 Raw Recipes series on Kindle and we're kicking it off with this very special edition for FREE. The regular price for the series is $9.99.
CLICK HERE
UK Readers, Click
Here
You don't need a Kindle to get this book – just an Amazon account. Kindle books can be ready on your PC, Mac, iPad, smartphone – whatever! It's also available in every country Amazon serves.
Simply Delicious Fall Retreat Menu - 80/10/10 Raw Vegan Style from Dr. Douglas Graham. This Special Edition of the Simply Delicious Recipe series is based on the 80/10/10 Raw Vegan menu that we serve at our Fall Retreats in Sedro-Wooley, Washington State every year. Our retreat participants absolutely LOVE the wonderful recipes we create for them three times a day and we decided we should bring them to anyone interested in making 80/10/10 part of their lifestyle. These recipes are "Simply Delicious" because they bring to life incredible 80/10/10 recipes that are gourmet, low-fat and have a small number of simple ingredients. Dr. Graham, Alicia Ojeda and Katy Craine created and thoroughly tested these recipes in the retreat kitchen over the years to ensure that you can reproduce these recipes in your own kitchen - simply and quickly.
From Dr. Graham: "My time at FoodnSport Retreats has always been very special to me, and it is becoming even more so each year. Watching everyone contentedly eating their 80/10/10 meals each day serves to make Retreats one of my favorite times each year. These recipes, directly from our Foodnsport events kitchen, are guaranteed to please newbies and experienced 811er alike. Easy enough to create that anyone can succeed in making them, and so tasty that they will delight even the most discerning palate, these Simply Delicious recipes are some of our best. I hope you will enjoy making all of the recipes in this special edition of 'Simply Delicious 80/10/10 Raw Food Recipes' many times, and that you will continue customizing them until they perfectly fit your taste and texture desires. I look forward to meeting you soon at a FoodnSport Retreat!"
These are special 80/10/10 raw food recipes that don't exist elsewhere. You're not just getting another flax cracker recipe, you're getting recipes that just don't exist out there in the raw food world!
Get it Now!
Simply Delicious Raw Recipes: 80/10/10 Retreat Menu
UK Readers, Click Here
What If I Don't Have A Kindle?
To get this book, you must have an Amazon account, as they are the ones who distribute the book for us.
Outside the US
you will need to download the Kindle program on the PC or App for Apple/Android products before getting the book - they are free from Amazon.
If you are using a
Mac, tablet or smartphone,
download the Kindle Reader App from the device's App Store.
On a
Windows PC,
simply click on the "Available on your PC" link on the right side of the Amazon page for the book and download the "Kindle For PC" program.
In the US,
you can select the option to get your book on the Kindle Cloud Reader (shown on the right side of the Amazon page for the book), which means you will be able to simply read the book online!
Of course you also have the option to get the App or "Kindle For PC" program as listed for non-US users.
Enjoy!