Spanish "Rice" Stuffed Peppers
by Dr. Douglas N. Graham and Chef Katy Craine
Published: Tue, 17 Feb 2015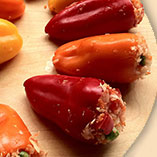 Ingredients:

20 medium Mixed Cocktail (Sweet) Peppers
2/3 small Cabbage
1 lb. Carrot
1 small Garden Fresh Sweet Onion
3/4 cup Freeze Dried Peas
2 cups Tomato
6 oz. Lime Juice
1/2 tsp. Cumin


Method:
Process the cabbage and carrot to a rice-like texture using the s-blade on a food processor. This will be your rice base. Dice onion and tomato and add to the "rice" in a large bowl. Soak the peas in the lime juice for ten minutes before adding to the rice. Mix everything except the sweet peppers together with the cumin.
Cut the tops of the peppers out and pull out the seeds. Stuff the rice into the peppers and
dehydrate
for 4-6 hours at 125°F (52°C). Make sure they don't get too dry and add more lime if needed. Any rice that you do not stuff can be served at dinner time with whole lettuce or cabbage leaves and a bit of guacamole.