The Best I Have To Offer
by Dr. Graham
Published: Sun, 7 Sep 2014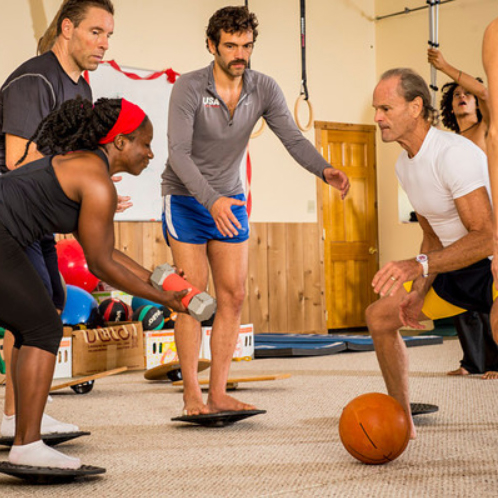 For nearly forty years, I've been helping people regain health and reach higher levels of fitness performance.
At first, most of this help took the form of lectures on Natural Hygiene. People would attend a lecture, get excited about the prospect of feeling better, and begin making lifestyle changes.
All too often, their enthusiasm was either extremely short-lived, or at least partially misdirected. Even more common than "where do you get your protein," I was hearing comments such as, "I attended a lecture you gave in Philly, went home and did what you said, but I'm having problems."
Upon further inspection I would almost invariably discover that although the
person thought s/he was following my guidelines, s/he was actually far off base in one area or another
. Hence I was hearing more feedback than I cared to of the form, "Oh, I tried what you said, but it didn't work for me." I decided to do something about that, and so in 1986 I opened a retreat center where people could experience the wonderful results that accrue when living truly healthfully.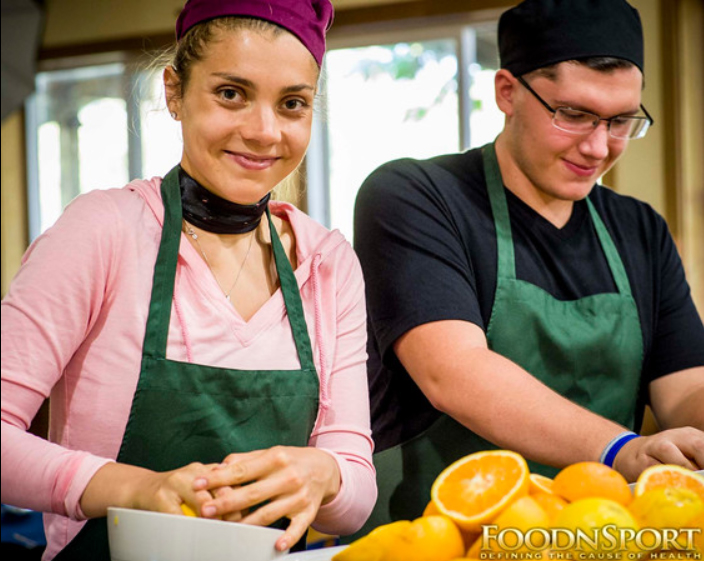 Some people stayed for a week, and some for a month or more, but the general idea was to stay until one's health improved dramatically, and s/he felt they had a firm grasp on incorporating the principles of healthful living into everyday life. While each person
came with unique issues
, their problems and areas of interest tended to fall into
general categories
. In 1996, I closed the retreat center, and began offering a series of retreats, each with a specific focus, so that
like-minded people could share and enjoy learning, camaraderie, and good times, while focusing on reaching specific health goals
. Thus FoodnSport retreats were born!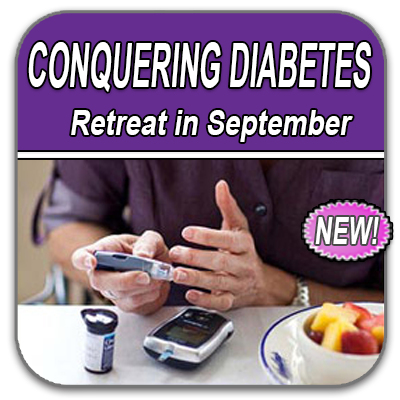 Are you tired of constantly checking your blood sugar, only to find that it is once again out of the prescribed range? If so, you need to attend the Foodnsport Diabetes Retreat, and learn to put your blood sugar problems into the past.
At the retreat, you will be given
strategies for knowing what to eat and when
, so that you can always keep your
blood sugar under control.
We will share with you a variety of appropriate and fun exercises so that you can once again enjoy the thrills of becoming fit. We'll offer
three organic meals per day
specifically designed to support optimum blood sugar levels, and make available all the appropriate snacks so that you never need be concerned should you lose your way in controlling your level.
Daily educational programs
will explain how and why diabetes occurs, and what you can do to minimize or eliminate future blood sugar issues.
Our success rate with Type 2 diabetes sufferers has been nearly 100%, with optimum results usually taking just two to seven days.
If you are willing to modify your lifestyle so as to overcome diabetes,
Foodnsport's Diabetes Retreat
is essential to your future.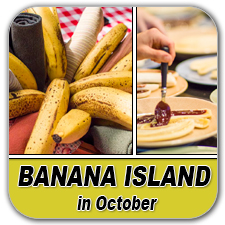 While learning the
principles and practices of healthful living over the decades
, whenever I went astray, which I did for a variety of reasons I often didn't understand at the time, I had one tried and true approach to get myself
back on track
. I used that approach whenever the issue had to do with food, often when it had to do with emotions, and sometimes even when the problem was related to my physical health, I would visit
Banana Island
. In my mind, I pretended I was on an island, and the only food I could find was bananas. I'd
make peace
with eating bananas, bananas, bananas, and after a few days or a week, my
health invariably improved
. I successfully applied this same mono approach to eating mangoes, watermelon, and many other fruits, each in their turn with equally great results. For reasons of availability, weight management, and price, bananas were my fruit of choice.
My relationship with food certainly improved, but far more important was the change that occurred in my relationship with myself.
I became more honest with myself, more able and willing to make the effort to live true to my beliefs, to pursue my goals, and to keep striving to better myself. As Roberto Clemente said about baseball, I could now say about this unique yellow fruit: "Bananas have been very very good to me."
A few of my clients became interested in trying the Banana Island experience on their own, and reported back to me
astounding results
, unlike any I'd seen from a dietary approach. It would open people up to a
world of emotional depth
where they would
gain inspiration, experience dramatic weight loss, make emotional breakthroughs, and find a new appreciation for food, self, and relationships
. After a short period on a mono diet, people
changed, for the better, often permanently
. I simply had to share this with the world, so I created the Banana Island retreat as an experiential program, in order to
bring about rapid personal growth and health improvements, maximize the advantages inherent in immersion programs, provide a safe space for people to explore and open up to their deepest emotions and fears, and to foster the transformation that comes with living healthfully
. The results have been even better than I'd ever hoped for.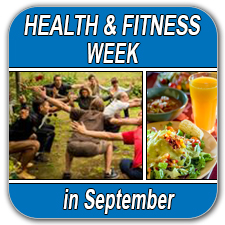 I so much
enjoy playing, fine tuning my body, and exploring and pushing my physical limits
. I've made a lifetime's work of teaching others how to experience this same joy in a safe and supportive fashion.
Health and Fitness Week
is the culmination of that work. The program is seamless, with every section in
full support
of the others. The meals support the fitness classes, the activities clearly demonstrate and build upon what is taught in lecture presentations, and the social times with like-minded individuals brings the entire event into focus. Learn to
make fitness the fun
and useful pastime that it is meant to be. Learn why play, and not workout, brings the best results, and how to bring the atmosphere of play into all of your fitness activities. Health and Fitness Week is designed to be
the best week of your year
, and that's why people come back time and again.
Are you ready to become fitter, for the health of it?
Are you impressively fit, and wanting to learn to become more athletic?
Do you want to play all day while someone else makes scrumptious organic 811 food for you?
Come to Health and Fitness Week, and have the time of your life.
Health and Fitness Week is always the highlight of my year, and has never let me down. That is because we meet your fitness needs
AT YOUR FITNESS LEVEL,
and show you how to improve from there. Everyone is happy at Health and Fitness Week because no one is stressed, no one is getting injured, and everyone is improving, often doing things they never thought even remotely possible.
The personal growth is fantastic, and everyone can feel it in the air
. Something special happens at Health and Fitness Week, and I know
you want to be part of it
.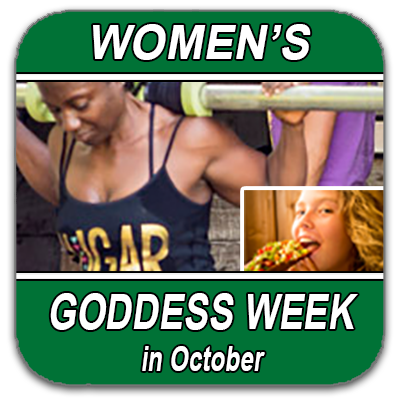 If I had a nickel for every woman who asked me questions relating to sculpting her physique, I'd be a very wealthy man. I'm not talking solely about vain attempts at creating a physique that is alluring to the opposite sex, but one that functions well, will last, and in addition, looks great. Women are smart enough to understand that
looking good is a natural part of feeling good
. And they understand that personal responsibility is a must when it comes to creating
the physique you desire
. Go to any major airport and you will quickly notice that the number of women who are taking excellent care of themselves far exceeds the number of men doing the same. Women are willing to do what it takes to get the results they want.
The trouble is that many women simply don't know how to go about efficiently and effectively pursuing those results
.
Women's Goddess Week
is designed to give women the
powerful tools
they need in order to
create the physique of their dreams,
as well as to teach them how to
use those tools to their best advantage.
Accompanied by champion women's body builder and fitness instructor Lisa Holt, and renowned personal trainer Shari Leiterman as our cardio and rhythm expert, I have amassed a team of expert teachers who will lovingly guide you towards
putting everything you need into your body in order for you to get everything out of it that you could ever hope for
.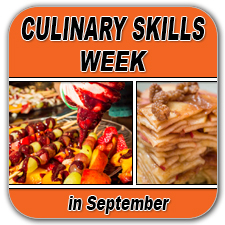 Many people think culinary skills are a waste of time. Nothing could be further from the truth.
Every time
you make food for someone else, the food either interests them in trying 80/10/10 (aka 811), or pushes them away from it. Even if you don't entertain others very often, when you do, you
benefit tremendously
by knowing how.
Culinary Skills Week
will give you the
awareness, knowledge, and skills
to host an 811 party, put on an event, and make food for the entire family, no matter how big the gathering. Whether you wish to prepare food for your family or for athletes, for business men or children, for seniors or folks with special needs due to poor health,
Culinary Skills Week will give you the know how
. There is much more to great food prep than meets the eye. In fact, most of the knowledge necessary to create great meals is only known to the chef. Those eating the meal only get a sense of whether the important details were covered or not, and those details translate into the degree of enjoyment of the meal.
Having organized the food for raw events
both grand and small
, having put on many raw parties for over 100 people, and having made more than 30,000 811 meals for myself and my family, I've learned
what it takes to succeed with 811
, and how to make it easy for others to succeed with 811. Graduates of Culinary Skills Week are invariably thrilled with the skills they learn and the great food they prepare.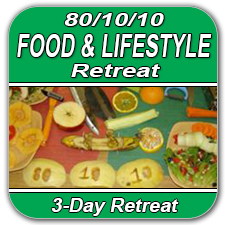 Of late, interest in The 80/10/10 Diet has increased sharply. The book is now out
in many languages
, and the number of people teaching 80/10/10 (aka 811) is on the rise. Imagine a retreat to ensure that beginners
get started the right way
.
3-day immersion course
. Every meal will be like show and tell, and we'll discuss recipes till you are completely satisfied. The social side of 811, how to keep a healthy relationship with your friends and family, and even the emotional issues of letting go of old eating habits will be discussed. Come expecting to
have fun
, to
learn a lot
, and to
go home a true expert on 811
. If you really want to
influence someone important to you and give them a fair chance with 811
, bring them to the
80/10/10 Food and Lifestyle retreat.
Learn about various retreats in these webinars with Dr. Graham. Discover which retreats are best for you.
Overview of Washington Retreats


Streamed live on Jun 4, 2014

Women's Goddess Week


Streamed live on Jun 11, 2014

---

811 Food & Lifestyle Retreat


Streamed live on Jun 14, 2014

Banana Island Escape


Streamed live on Jun 18, 2014

---

Culinary Skills Week


Streamed live on Jun 19, 2014

Health and Fitness Week


Streamed live on Jun 21, 2014