Italian Stuffed Mushrooms
Published: Mon, 08 May 2016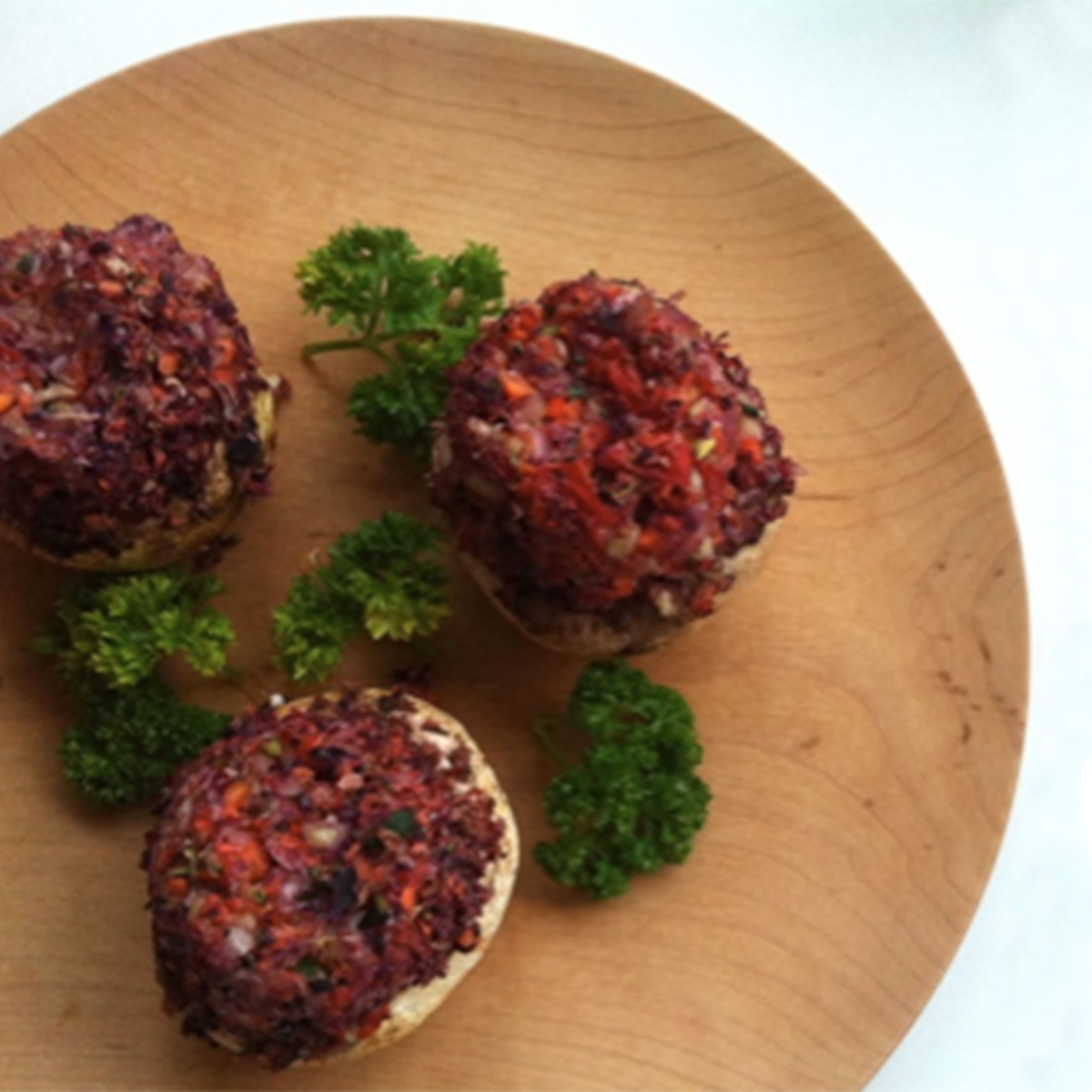 Savory mushrooms stuffed with a variety of chopped vegetables and herbs.

Ingredients

(Adjust amounts and proportions to taste)

:
Cabbage
: 2 Cups chopped
Zucchini
: 2 medium
Cocktail Tomato
: 1 small
Carrot
: 1 pound
Mushrooms
: 10-15 large
Italian Seasoning
: 1 Tbsp. dried (optional)
or
minced fresh
*
:
oregano, 1 teaspoon
basil, 1 Tbsp.
thyme, 1 teaspoon
margoram, 1 teaspoon
savory (Winter or Summer), 1 teaspoon
rosemary, 1/4 teaspoon
sage, 1/4 teaspoon
Equipment:
knife
cutting board
food processor with S-blade
mixing bowl
dehydrator (optional
*
)
platter and/or plates for serving
*
if not using dehydrator, decrease portions of fresh herbs to taste
Directions:
Chop carrots into same sized pieces and process in the food processor using the S-blade. The texture wants to be almost as fine rice. Transfer to mixing bowl.
Chop the celery and process until it is a similar size as carrots after processing with S-blade. Transfer to mixing bowl.
S-blade the tomatoes until you have a chunky slurry. Transfer to mixing bowl.
De-stem mushrooms and chop stems. Transfer chopped stems to mixing bowl along with Italian herbs.
Mix all three processed ingredients with italian herbs and chopped mushroom stems.
Using your hands, squeeze out a portion of the stuffing from mixing bowl to stuff mushrooms. Squeeze the stuffing mixture a bit before stuffing each mushroom to drain excess moisture.
(optional) Place in the dehydrator for 4-6 hours at about 125 degrees. Be careful not to over-dry the mushrooms.
Serve.
Additional Resources
Supplies and Equipment:
Dehydrators
Retreats:
| | |
| --- | --- |
| Cultivate Your Inner Chef | Practical Skills To Thrive |
---
Books:
| | | | |
| --- | --- | --- | --- |
| Simply Delicious Fall Retreat Menu | Simply Delicious SALADS and SLAWS | Simply Delicious DESSERTS | Simply Delicious SOUPS |