Taco Salad
by Kevin Cosmo
Published: Tue, 04 Aug 2015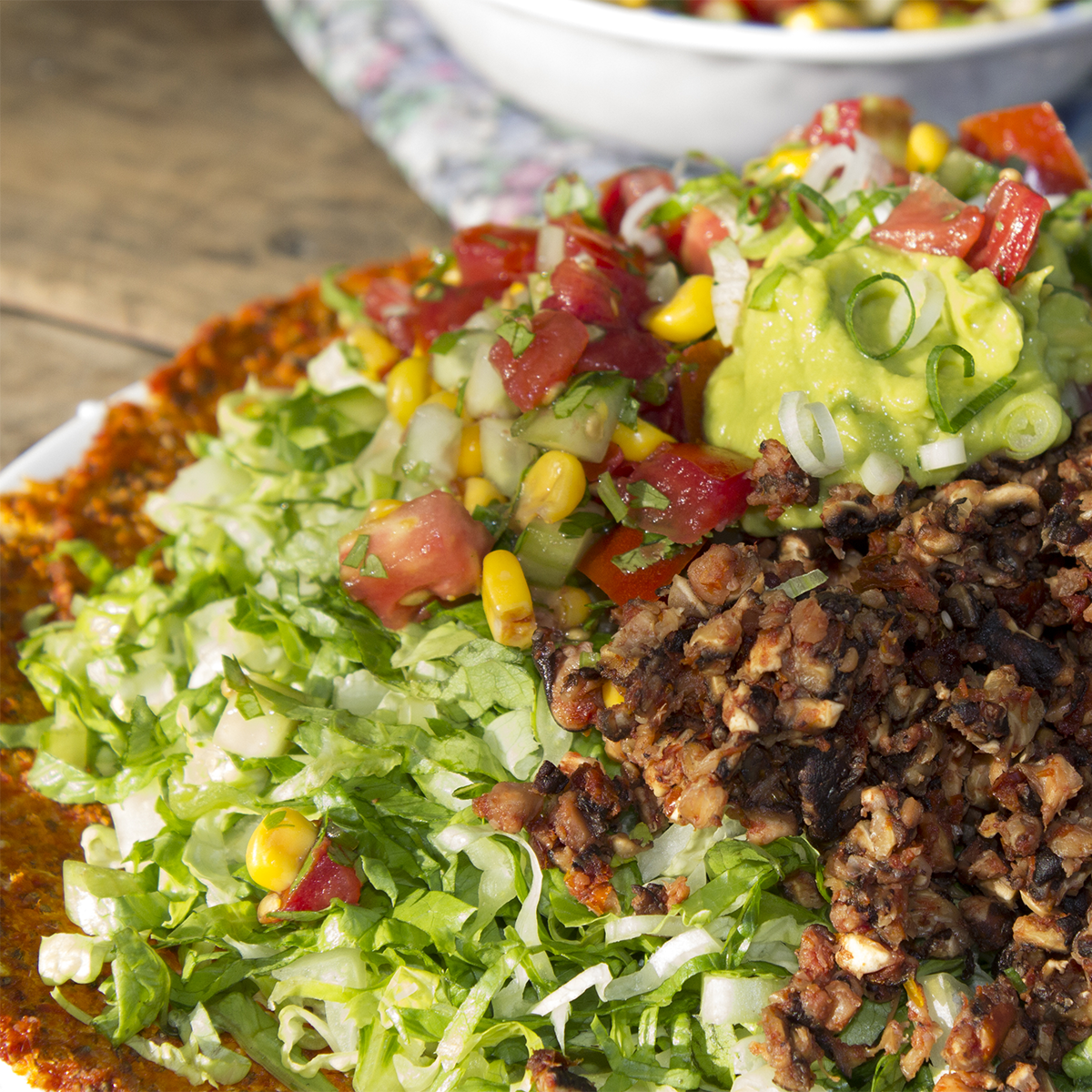 ¡Provecho!
Three-Course Meal Tip:
Enjoy this hearty salad for your evening meal, after some
Hearty Tomato Soup
, perhaps preceded by some orange juice.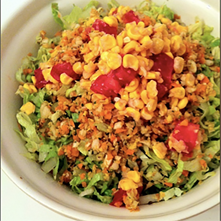 Ingredients

(Adjust amounts and proportions to taste)

:
1 medium Romaine Lettuce
2 large Tomato
1 medium Avocado
½ cup Freeze Dried Corn
½ cup Lime Juice
½ cup Fresh Corn or Freeze dried corn
1 Tbsp Celery Powder
1 tsp Cumin
3 small Carrot
⅛ medium Cabbage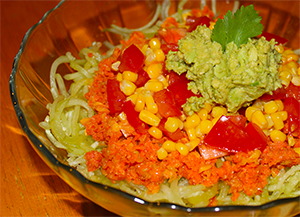 Try this recipe with cucumber or zucchini noodles
for a fresh new option.
Equipment:
food processor
blender
knife
cutting board (optional)
small pie plate, deep dessert dish, or shallow bowl for serving
Directions:
Finely chop the romaine lettuce.
In a separate bowl: pour the lime juice over 1/2 cup of the dried or fresh corn and mix thoroughly.
Place S-Blade into food processor.
Transfer the lime juice corn mixture into the food processor and add cabbage, carrot, celery powder and cumin. Process this with the S-blade. The texture should be about the size of grits. This will be the taco "meat" of the salad.
Smash avocado into a cream and mix with diced tomato.
To assemble the salad layer the taco "meat" over the lettuce topped by the corn salsa and finish with the guacamole on the very top.
Serve.
Additional Resources
Supplies:
Dried Mulberries
Dehydrators
Blenders
Retreats:
| | |
| --- | --- |
| Cultivate Your Inner Chef | Practical Skills To Thrive |
---
Books:
| | | | |
| --- | --- | --- | --- |
| Simply Delicious Fall Retreat Menu | Simply Delicious SALADS and SLAWS | Simply Delicious DESSERTS | Simply Delicious SOUPS |